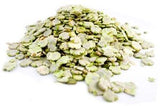 High quality Micronized Flaked Beans. Micronization of beans optimises starch gelatinisation, disrupts cell walls and can optimize protein solubility for the fish.
Gelatinised starch has a higher fish by-pass rate and ideal digestibility than raw starch; disrupted cell walls allow improved nutrient access to intestinal enzymes, also affects water holding capacity and increases gut transit time; improves by-pass protein without affecting Ileum digestibility.
Beans are a source of protein rich sulphur amino acids. Micronized Beans can improve production parameters and improve feed conversion due to greater availability of nutrients and a higher energy than other forms. Bagged in 25kg bags
Preparation Guide
Pour boiling water over the flakes in bucket and leave for couple of minutes then ready to use.
Bulk tonne bag prices reductions available 500kg/1000kg amounts
Typical Analysis
Fresh Weight (%)

Dry Matter

86

Moisture

14

Protein

23

Oil

2

Fibre

5.5

Ash

3.5
More from this collection